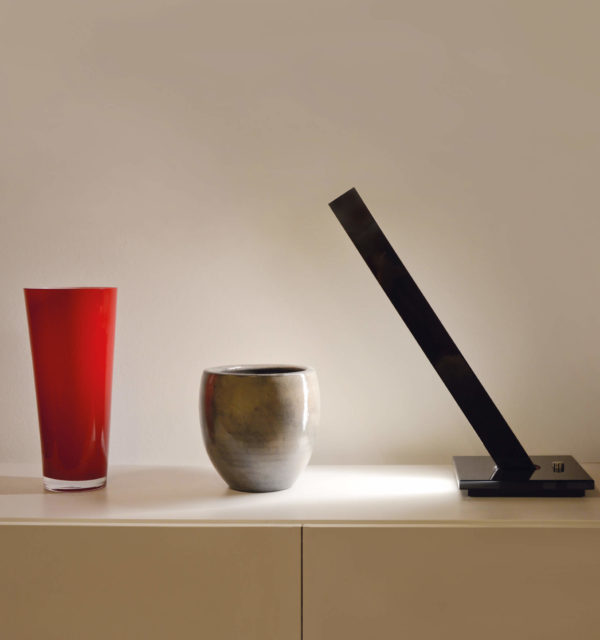 Lighting
Mithra
Elegant and precious, this chrome lamp bears the name of the Persian deity of heavenly light, Mithra.
It comes in two versions: floor lamp or table lamp. 
It is characterised by a directable light whose beam can rotate 90° on its own axis.
This chrome lamp fits exquisitely well in chic and contemporary contexts. Its direct and directable light is particularly suitable for lighting environments such as living rooms, reading rooms, desks, or simply to create a pleasant atmosphere in living areas.
The glossy black chrome finish creates beautiful reflections which enhance the surrounding space.
Placed close to decorated walls or walls covered in wood or stone Mithra gives a particular effect of lights and shadows which emphasises details enhancing the structure.
Aluminium floor or table Led luminaire.
The illuminating part rotates on its axis by 90°.
It comes with a 1,5 m cable complete with power supply plug for the electrical connection.
In the floor version, the on/off switch and dimmer are carried out with a touch button placed on the line of the light in the upper part of the diffusor.
In the table version, the on/off button is placed on the base of the lamp.
Indoor installation.
The specific characteristics of individual variants are found in the respective data sheets.
Screen: OPAL POLYCARBONATE
Finish: SHINY BLACK CHROME NICKEL ROTATING ROD WITH FINISHES PAINTED RED, SUPPORT BASE IN BLACK CRYSTAL
FROM THE OFFICINA DELLA LUCE... BRILLAMENTI CREATED FOR YOU.
Are you looking for a particular product?
All wishes can come true in our Officina della Luce,
where we make customised solutions and lamps to illuminate any space.
> CONTACT US NOW