Designer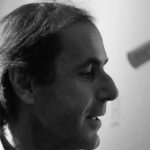 Alessandro Zaffagnini
Alessandro Zaffagnini, architect, is responsible for the design and production supervision, especially in the specific field of…
Lighting
Isos
A designer Led table lamp, with reflected light, suitable for those looking for a comfortable and restful reading light.
Isos means "identical". It has two reflective white screens which are open like the pages of a book. The indirect light source discreetly illuminates the space around it, and it is possible to adjust the intensity according to personal preferences.
This table lamp can be placed in modern and rustic environments, in offices, shops, libraries and bookstores. Or it can simply be used as a bedside lamp in hotel rooms or home bedrooms.
It looks great placed on wooden or glass surfaces, enhancing its aesthetically pleasing look.
Aluminiuim and methacrylate Led table lamp, indirect light, symmetrical diffusor.
Finish: RAL 9016 white frame, the screen is white in the reflecting part, the external part comes in six different colours. It comes with a 2m cable complete with dimmer switch and power adapter.
Indoor lamp.
The specific characteristics of the product are given in the respective data sheet.
Finish: PAINTED PASTEL TURQUOISE RAL 6034 - PAINTED GREY RAL 7022 - PAINTED ORANGE RAL 1034 - PAINTED TITANIUM - PAINTED GOLD - WHITE WITHOUT PAINTING
DALL'OFFICINA DELLA LUCE... BRILLAMENTI CREATI PER TE.
Stai cercando un prodotto particolare?
Tutti i desideri possono diventare realtà nella nostra Officina della Luce,
dove realizziamo su misura lampade e soluzioni per illuminare ogni spazio.
> CONTATTACI SUBITO