Lighting
Regolo
Regolo is a Led recessed light body ideal for lighting outdoor spaces.
Solid and resistant it is constructed in stainless steel and aluminum. It can be used for lighting and highlight outdoor areas for example pedestrian paths, sidewalks, colonnades, facades, gardens and terraces.
The possibility to choose the width of light beam (diffuse optic, 7°, 25° and 40°) allows to obtain different light effects.
Recessed floor Led light body in aluminum and stainless steel.
It is provided with 50cm neoprene biplar cable for the electrical connection.
Floor outdoor installation with specific formwork.
Fixing by two screws, depth dimension 91mm.
The technical characteristics of the product are given in the respective data sheet.
Screen: OPAL/TRANSPARENT POLYCARBONATE
Finish: STAINLESS STEEL SATINIZED
Variants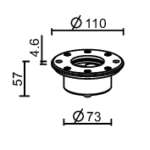 Regolo
RG.NN.000.OTA.FI
accessories

Available accessories

PVC formwork. Floor installation. Compartment hole:Ø110mm. Maximum dimensions: Ø110x91mm.
FROM THE OFFICINA DELLA LUCE... BRILLAMENTI CREATED FOR YOU.
Are you looking for a particular product?
All wishes can come true in our Officina della Luce,
where we make customised solutions and lamps to illuminate any space.
> CONTACT US NOW