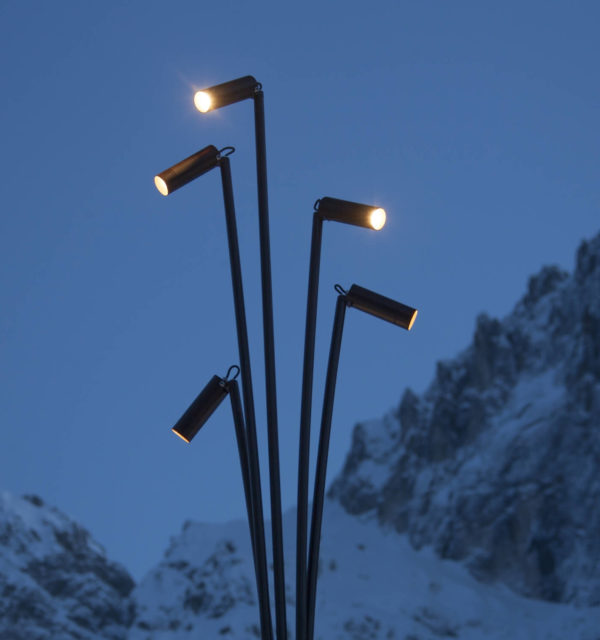 Lighting
Reanuzza
Outdoor ground light, with a unique design and excellent performance.
Thanks to the pure and elongated shape, this Led light becomes part of its surrounding natural environment, perfectly blending in with the trees and disappearing.
With its 3 metres at the highest point, and five "branches" that come together to create a shape that resembles a tree, Reanuzza is an original outdoor Led lamppost. Ideal for illuminating gardens, parks, pathways, thematic routes, car parks, outdoor and picnic areas.
The end of each of the lamp's "branches" there's the light source which can contain a number of customisable Led lights, from 3 to a maximum of 7, depending on specific needs.
Once turned on, Reanuzza immediately shows the advantages of its brightness: adjustable and distributed at different heights, it can be controlled to illuminate, with various scenarios, more spaces and areas.
Galvanized and painted steel ground Led luminaire. It comes with five 1m neoprene bipolar cables. The power connection must be watertight. Outdoor installation on a hard and stable support no less than 250mm x 250mm.
Fixing by four screws which are not provided.
The specific characteristics of the product are given in the respective data sheet.
Screen: TRANSPARENT POLYCARBONATE
Finish: PAINTED FAUX CORTEN STEEL - CUSTOMISED RAL
FROM THE OFFICINA DELLA LUCE... BRILLAMENTI CREATED FOR YOU.
Are you looking for a particular product?
All wishes can come true in our Officina della Luce,
where we make customised solutions and lamps to illuminate any space.
> CONTACT US NOW