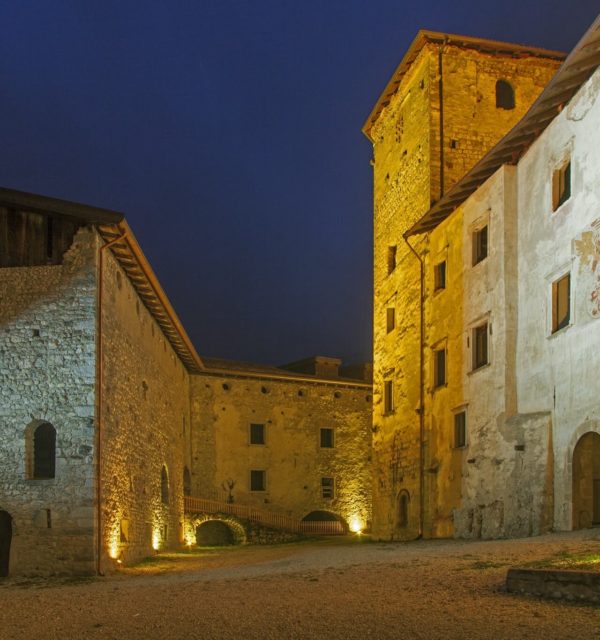 Lighting for museums and exhibition areas
Castel Belasi
Castel Belasi is a beautiful medieval manor in Trentino (in the North of Italy), characterised by high walls that protect the main building.
Castel Belasi now belongs to the Municipality of Campodenno who is overseeing major renovation works and from whom, through the electrical systems company from Trentino, Battan Ivan, we were commissioned to design the scenic lighting of the walls outside and to provide the suitable illuminating elements for the purpose.
In fact, the client wanted to be able to handle the colour of each light or group of Led lights in order to adapt the light to specific atmospheres required by the performances and the cultural events that are organised and held.
To meet these needs, we developed a specially-made lighting project and created specific luminaires: the Led floodlamp Castello and the passageway lighting Thun.
Castel Belasi is 35 km away from Trento, in the Campodenno area. The medieval fortress is surrounded by a forest of conifers in the Val di Non. The castle is an important feudal complex of Trentino, located in an isolated position on a green hill washed by the Belasi river.
Built for communal purposes around the twelfth century, Castel Belasi was then inhabited by the most important noble families of the Val di Non, until it was finally abandoned after World War II. It is now owned by the municipality of Campodenno, which commissioned the restoration works and handles the opening of the castle to the public.
details
Customer: Comune di Campodenno (TN)
Place: Trento
Year: 2015
Photo: Manrico Dell'Agnola