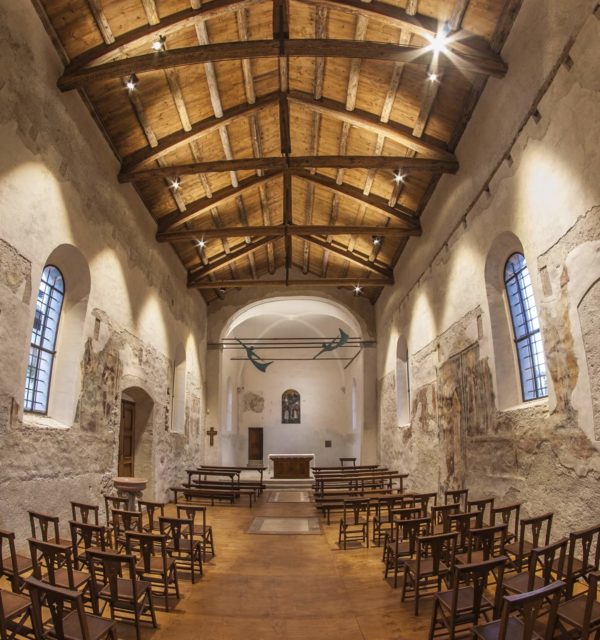 Lighting for religious buildings
Church of Cesana
For the old church of San Bernardo we created a lighting design that met various needs. First of all, we wanted to enhance the frescoes and handle the illumination of the artwork with a wireless system according to specific criteria: individually, by author or sequentially, to recount the history and chronology. Also, a solution to illuminate the ceiling with separate power-on was requested along with a service light.
Therefore we designed a specially-made solution using the 39W adjustable Riccio Led bars to illuminate the ceiling and adjustable Castello Led floodlights for the frescoes.
These two light fixtures were chosen by architects Giusi Fanoni and Andrea Bona, in charge of the church's renovation project, because they were well suited to their needs both from an aesthetical and technical/functional point of view. The hue of choice was a light warm white 3000K, with a CRI (Colour Rendering Index) > 80 and a 25° beam angle. The solutions allowed to direct the light beam with extreme precision, to have a good light output and further ensure preservation and conservation of the works of art, since Led light does not emit UV and IR radiation.
The church of Cesana, dating back to 1100, is located in the small village, an old river port in the province of Belluno. The church has recently undergone a restoration that enhanced its architectural and artistic quality. It is dedicated to St. Bernard of Clairvaux, French abbot belonging to the Cistercian order, supporter of the Second Crusade and inspirer of the Templar rule.
The pictorial cycles along all the walls of the nave chronologically range from the late thirteenth century to the mid-fourteenth century with episodes characterised by a high pictorial quality.
details
Project by: Studio Ider
Customer: Parrocchia di Santa Maria Assunta (Lentiai)
Place: Cesana (Belluno)
Year: 2014
Photo: Manrico Dell'Agnola