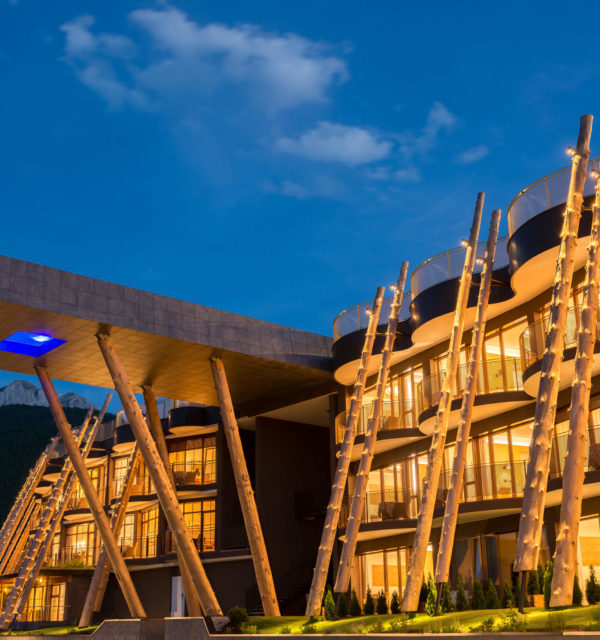 Lighting for Hotels
Hotel Hubertus
Alpin Panorama Hotel Hubertus is an elegant and welcoming accommodation located in the center of Dolomites, in the enchanting Plan De Corones ski area in Valdaora town.
The owner, Mr. Christian Gasser, has charged us with the lighting of the Hotel outdoor areas, in particular the parking, garden and pool and to enhance the high surprising trunks of fir positioned against the hotel's facade.
For this "artistic" installation we have created a specific lamp characterized by two different adjustable light sources with a narrow beam.
This lamp, made in varnished faux corten steel and positioned at the top of every element allows to enlighten the wood surface for all its length and creates dynamic effects of light and shadow that emphasize the volumes and add value to the structure.
The lighting of the outdoor park with its paths has been realised using our Led street light Reanuzza. Its design, strictly similar to the shapes of the trees, coexists perfectly with the surroundings and enhances the context without causing discontinuity.
Regarding the car parking, we have realised new type of Spotlights, with Led technology a usual, that had been recessed under the handrail of the parapet. This particular lighting effect allows the Hotel customers to be guided in the rest-area without being dazzled but enjoying the suggestive lights of the valley.
At the end, to add value to the suspended pool, we have located our Castello Led floodlight in front of the hotel entrance. The light beam, directed from the bottom to the top, hits the aerial structure emphasizing from that extends into the space of underlying valley.
With our work we would add value to the existing architecture without inventing anything. We use low energy consumption lamps in full compliance with nature and human beings that in there they want to deep to obtain the maximum benefit.
Electrical designer : GM Plan des Georg Mutschlechner & C. Snc (province: BZ)
Installation of light fixtures: Leitner Electro (province: BZ)
details
Customer: Gasser Family
Place: Valdaora (Bolzano)
Year: 2016
Photo: Copyright Alpenhotel Hubertus